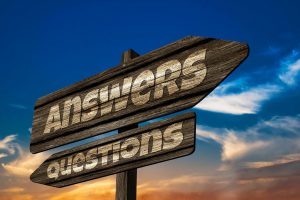 [booking startmonth='2021-6′]
As many of you know, I am quite active in the online space with my audience.  This is very helpful for me personally and professionally, as it allows me to stay current on the issues like the family court matters that are most important to my community.  On a personal level, I am able to connect with people from all over the world, which is rewarding itself.
One of the things that I do daily is encourage my audience to ask questions.  As a result, what I have noticed is that there is a lot of misinformation being circulated.  In addition, I realized that people tend to have the same concerns regardless of their location, status or position (in their case).  So I have decided to dedicate this week's blog to those common questions, providing some clear answers.
---
Parent Education in Divorce or Custody Matters
Frequently Asked Questions
 1. Should I file a divorce or custody petition first?
Read my blog on this topic but the short answer is, it depends.  If you are seeking divorce on specific "grounds" like adultery then you should file first.  However, if your circumstances meet the requirements for a "no-fault" divorce, then it may not matter.  In situations where there is property and you are concerned that your ex/soon to be ex will hide it, then you may want to file first.  However, filing first does not guarantee better success, it may just afford you the opportunity to better prepare.
Is there a difference in shared custody vs. joint custody vs. 50/50 custody?
Shared custody can be anything where the child(ren) split their time at both parents home.  However, that split can be anything above or below 50%.  Joint custody usually refers to joint legal but can include physical too. 50/50 custody usually means that the child(ren) spend equal time between both parents homes. I covered this topic at length here.
How should I prepare for filing for divorce?
Preparing for divorce, whether you are filing or waiting to be served, should start as early as possible.  This does not mean that you should rush to give up on your marriage but it certainly means that you should start to take the necessary steps the moment you're convinced that divorce is impending. Gather documents, i.e. deeds/lease agreements, financial statements, credit card statements, receipts, etc.; contact all providers i.e. medical/health, schools, insurance, etc.; change passwords; inventory possessions; records, etc.
Should I work with an attorney?
Having a lawyer represent you in your divorce or custody case is not an absolute must.  In certain circumstances you should certainly have an attorney represent you, but even in these instances the extent to which they provide representation should be considered.  If there is a dispute over custody, alimony &/or property distribution then having a lawyer on your side can certainly help.  However, be wise about whom you choose to work with and be sure they are familiar with the nuanced issues of your case.
Note: Visit here to read more about alternative options.
Can I use text messages, emails, etc. as evidence in my hearing or trial?
This is a very common question and requires as much attention as possible.  Yes, text messages, emails, etc. can be used in court for evidentiary purposes.  Although each state has their own rules with respect to how these are admitted, they are generally allowed to be used to prove or defend your position in court.
Note:  I did a video on this topic on my Facebook business page.
Finding & Using Resources
Although there are tons of free resources on the internet, knowing which question to ask can make these resources useless.  When you are enmeshed in a legal battle, particularly in Family Court, it is critical to have the right information.  It is not advisable to trust your friends, family or even strangers to give you the appropriate answers to your legal questions.  Having gone through the process helps, but it does not qualify them to give you legal advice since each case is very different.
I always recommend getting at least three (3) consultations from qualified attorneys in your jurisdiction so that you have a solid foundation to start your journey.  Most family law attorneys will provide a free consultation so cost should not be a deterrent.
In Conclusion
 Always, always, always ask questions and seek answers.  At the same time, use discernment to decide if the source is reliable.  There is an overwhelming amount of information relevant to divorce and custody so filtering is important as well.
If you wish to schedule a consultation to discuss how I can help you please feel free to so here.