What is Discovery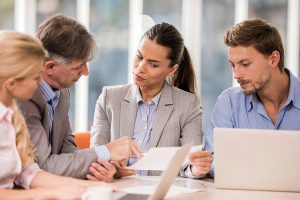 in divorce and child custody?
Discovery in divorce and child custody matter is the legal process where pertinent information, relevant items and material facts are exchanged between opposing parties upon request. Discovery is used in litigated cases of any type. It applies to civil, criminal and family law cases, just to name a few. However, the extent to which types of discovery is used may vary from case to case.
Discovery in divorce and child custody cases has a unique process and methods used depends on the issues. Whether the case is on the trial track, as opposed to settlement track, matters as well. The more contentious the issues, the less likely the case will be prepped for settlement. This means the case will require more extensive discovery so that it is "trial ready". For example, in a divorce where the main issue is division of the marital home but there is a question of who paid the down-payment, a Notice to Produce and/or Notice to Admit are appropriate. However, it is different where one of the parties is alleging that the other party is hiding assets. In those cases, a more extensive discovery process may be warranted like depositions.
---
Should You File First in your Custody or Divorce Matter?
---
Type of Discovery:
There are 5 major methods of discovery you and your lawyer can use in your divorce or child custody case.
Interrogatories: these are written questions that each party request to be answered by the other. The party must answer truthfully under the penalty of perjury. These answers can be used as evidence at trial. They usually ask for things like, the identity of expert and lay witnesses, a brief summary of their intended testimony and the exhibits they will use. There is usually a 30-day time limit for the responses. Also, some states limit the number of questions that can be asked in interrogatories. They can be pre-printed forms, generic, or can be tailored by asking specific questions relevant to your case.
Requests for Admissions: this is a series of short sentences that the other party must respond to. The other party must admit or deny facts or the authenticity of particular documents. This method is often necessary before trial because it minimizes the need to call witnesses to authenticate evidence at trial. This reduces the length of trial because it reduces the number of unresolved issues beforehand. Requests for admissions works best when contested factual disputes do not involve subjective opinions.
The key is to frame questions in a way that narrows down the possibilities as much as possible. The questions should leave no room for anything more than a "yes" or "no" response. For example, "Do you admit that you visited your parents home on July 1, 2010"?. As opposed to "Do you admit that when you to see your parents back in July 2010 that it was to get their help"?. See the difference in the potential responses, the latter may need more of an explanation than a simple "yes" or "no".
Requests for Production or Requests to Produce: these allow a party to request the other party produce specific documents relevant to your divorce or custody case. The request the production of items either in the other party's possession or that party has "custody or control" over. They refer to any type of statements of any party; photos, videos, audios, etc.; financial documents; etc. The party in possession can object to the request if they deem them to be overly broad or improper. If there are no objections, the items must be produced for copying if the other party has them. In situations where the party only has "custody or control", then a signed release is produced.
Depositions: this method gives the parties the opportunity to question any party or witness, in person and under oath. Their testimony can be used in court to either refresh the deposing witness' memory or to impeach them. They usually take place in an attorneys office, but can be conducted on any location agreed upon by all parties. The deposing parties are sworn in and a court reporter is present to take notes. This method is very expensive and can drag on the divorce or child custody longer. Nonetheless, it can be a necessary tool where there are several contested issues, like custody.
Subpoenas: technically not considered discovery but they are another means to acquire information relevant to divorce or child custody matters. This method is very simple and straightforward, thus often used as an alternative or follow up to other failed discovery attempts. It is ordered by the court so failure to respond to subpoenas can result in a contempt charge by the court, which may mean civil fines and criminal charges. Subpoenas can order you to show up to court, to produce documents or show up to court with documents. Anybody who has information or items related to the case can be served with a subpoena.
How to use discovery in divorce or child custody?
Most people do not expect to spend tons of money or time in preparing their divorce or child custody case for trial. No matter how contentious, it is not unreasonable to have limits with respect to your family law case. You can expect your case be resolved without dragging it out using discovery methods. However, when the issues are so complicated that there seems to be no end in sight utilizing all the discovery methods available is necessary.
Furthermore, the level of cooperation of both sides can delay/prolong the process. The tedious process can be a tedious one for all parties, since gathering information can take time and effort. In addition, the extent to which both sides respond truthfully, fully and timely can also determine how the discovery process is used. Discovery is typically used to obtain bank documents, financial statements, tax records, real estate deeds, business records, medical/mental health records, etc. in divorce or child custody matters.
Scenarios for use of discovery
Divorce cases where the issue is merely a distribution of identifiable assets, discovery use may be limited to pre-printed forms that is part of the attorney's customary practice in divorce. In other words, the discovery process may be routine and limited to requests to produce.
In divorce actions where the issue is a division of assets that need identifying, searched for and located, valuated, etc. then the discovery process would be much more extensive. The use of requests to produce, interrogatories, subpoenas and even depositions may be inevitable. These methods can be used together, or individually in instances where use of one method failed to produce desired results. So for instance, a party may use requests to produce to get copies of bank statements of hidden assets. If the other party denies any hidden assets in their responses then other methods should be used. Denial or failure to answer justifies using depositions as an alternative.
In child custody cases, utilizing requests to produce and interrogatories may be the way to get evidence relevant to the case. Specifically in cases where joint or sole custody is disputed, various methods of discovery may be best. Discovery would typically focus on proof of alcohol or drug abuse of either party, domestic violence or anything related to either party being "fit" or "unfit". And although the use of depositions is not typically used to prove "the best interests of the child", it is a very helpful method to establish them.
Subpoenas can be used in any of these scenarios. In fact, they probably should be used before resorting to more expensive methods like depositions. Requests for admissions are most useful when the divorce or child custody case is most certain to go to trial.
It is important that you understand the different methods of discovery and ways to use them. Although your attorney may opt to use a method, a combination of methods or none at all, it is important to have an idea of what is available and ways to implement them.
By Tracey Bee, The Divorce Solutionist