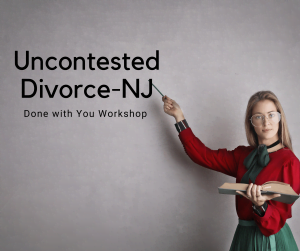 Uncontested divorce is a viable option for many in New Jersey.  In some states, although many have changed their laws, proceeding to divorce on the uncontested track requires specific steps.  New Jersey is a true "no fault" state thus making Uncontested Divorce much easier to accomplish.  No-fault means that the parties do not need to allege a "reason" for the divorce. (Read here to understand how "grounds" matter in divorce https://thedivorcesolutionist.com/should-you-file-first-in-your-custody-or-divorce-matter/
---
Should You File First in your Custody or Divorce Matter?
---
An Uncontested Divorce is where the parties agree on all of the terms of the divorce.  This means they agree to the "grounds" (which isn't usually an issue in "no-fault" states like NJ), child custody/visitation, child or spousal support, property division & debt allocation.  Court intervention is not needed since the parties resolved all issues on their own.  The parties merely complete the appropriate forms, sign them, pay all associated fees and file with the court.  (Some courts require a hearing as part of procedure.) Even if the divorce started off with disputed issues, at any time the parties can consent and proceed on the Uncontested Track.
The fees for an Uncontested Divorce are usually a fraction of those for a Contested Divorce.   There are 4 options to get an Uncontested Divorce in New Jersey. They are as follows:
A non-profit can handle it for you from inception to final order.  Although this method is usually free, each non-profit has its own guidelines and criteria applicants must meet to qualify. In addition, many have waitlists that go as long as a year before they can help.  (www.lsnj.org is the most popular)
A document preparer completes the forms only, no further assistance is provided by them. The fees for this service usually range between $399 and $799.
A lawyer can  handle the matter from inception to final order. Lawyers fees typically start at $1500 and go up to $3500, depending on other issues associated with the Uncontested Divorce.
You can do it yourself. This method can be the most cost efficient but the most nerve wracking too if the litigants are not familiar with legalese and/or the court process. NJ actually has a self help page to make it more accessible https://njcourts.gov/selfhelp/selfhelp_divorce.html.
The Uncontested Divorce-NJ Workshop addresses all of the disadvantages of the 4 options mentioned above.  This workshop will help you by going through each step of the process with the assistance of an experienced family law professional.  At the same time, you will have the opportunity to ask questions about things you do not understand. So you won't be overcome with frustration by doing it all alone.  And last, you will save yourself time and hundreds of dollars by signing up for the workshop.  (You are responsible for filing fees, etc.).  The cost of this workshop is only $99. 
There is no other lawyer, organization, business, etc. offering such a service.  This is the best way to gain your freedom, build confidence and have a piece of mind.
Sign up today as seats are limited.
Feb. 1, 2021 at 6PM EST on Facebook Live.